5 min read
Sneak Peek: The new DT Swiss Customer Journey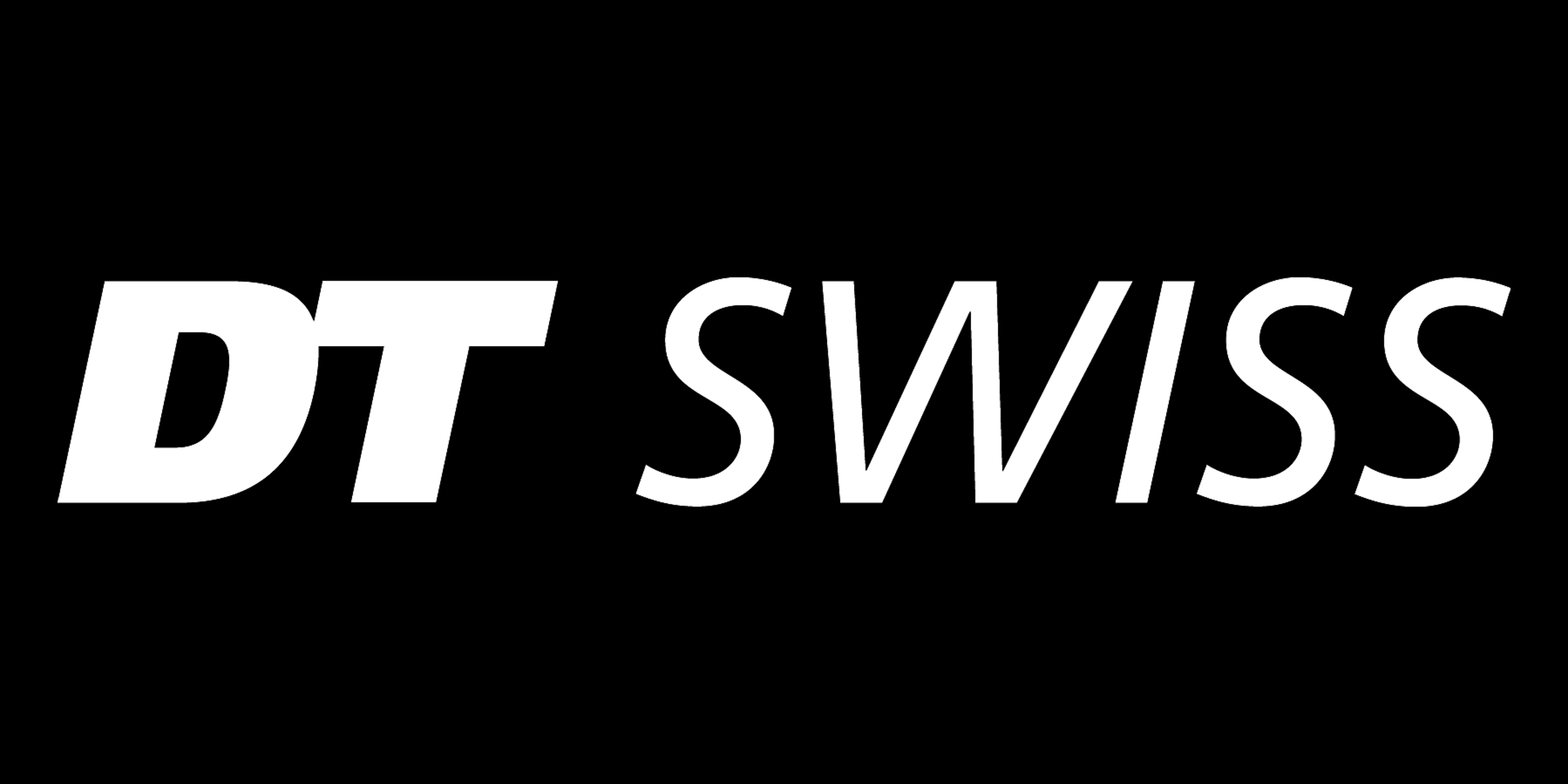 DT Swiss has been setting standards in the development of innovative, high-quality bike components for ambitious cyclists since 1994. Recently, the Swiss company has also started working with OUTTRA and is taking the customer journey of their customers to a new level with our tools:

With the OUTTRA Where-To-Buy-Local tool, customers on all international DT Swiss websites will experience a shopping experience that seamlessly connects online and offline, expected to go live in July 2023: On every product detail page, there will be a "Buy local" button. With this button, the customer can see with just one click at which local specialist dealer the desired product is currently available. A link to route planning, opening hours and contact details of each specialist dealer will make it easier to shop locally. In addition, the customer can see at a glance which other product variants and products from DT Swiss the respective dealer has in stock.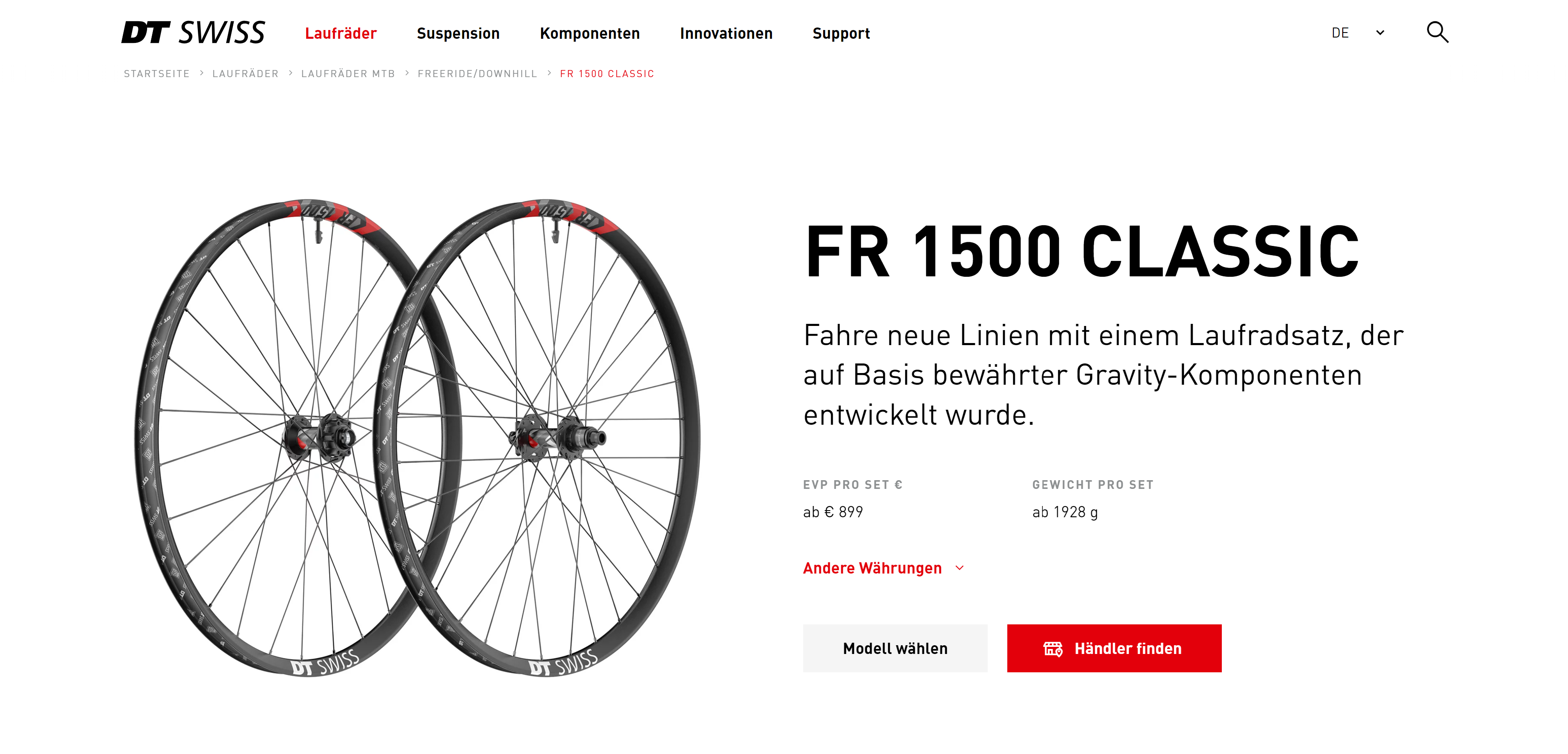 The "Find your dealer" ("Händler finden") button takes the customer directly to the innovative dealer locator.
The innovative OUTTRA Dealer Locator is already live, with which DT Swiss upgrades its website and offers customers real added value compared to static dealer lists: Via the button "Find your dealer" on every product detail page as well as a link in the footer, the customer gets to the dealer locator. There, after entering their location or searching on the map, they can see which DT Swiss dealers are available in their region, enriched with information automatically updated by OUTTRA on contact details, opening hours and much more. In addition, they can filter the dealers according to service offers (e.g. repair for wheels or forks). Also from July 2023, OUTTRA will enter the product availabilities of individual dealers at this point, so that customers can see a Digital Shop Window for each dealer, which shows the daily available stock of DT Swiss products per dealer.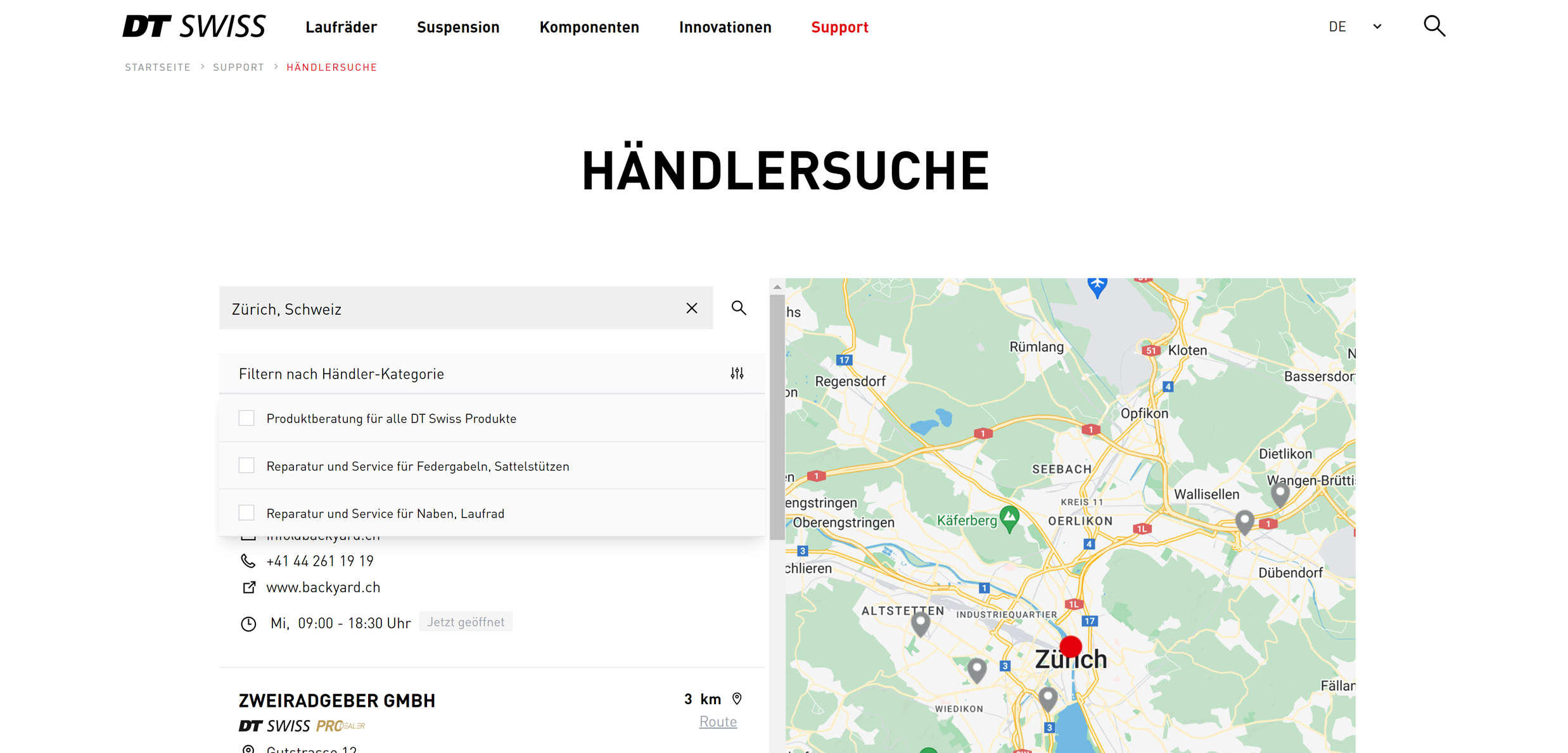 The OUTTRA dealer locator offers more than a static dealer list: Automatically updated dealer data, filter options and digital shop window (coming soon).
Heidi Boeckmann, Digital Marketing Manager at DT Swiss, explains the motivation and goals of the collaboration with OUTTRA:

"With OUTTRA's Where-To-Buy Local tool, we are closing a big gap in the customer journey. We offer a website with all the information a customer needs to decide on one of our products. Until now, we lost sight of the customer when they clicked on the retailer search. With the "buy local" function, we now go an important step further and show the customer where the product is in stock. This will certainly bring the customer closer to the purchase decision. We focus on working with qualified dealers because our products are complex and certain expertise is needed to find and install the right product. With the OUTTRA tool, we create a win-win-win situation: both manufacturer, dealer and consumer benefit from this new option."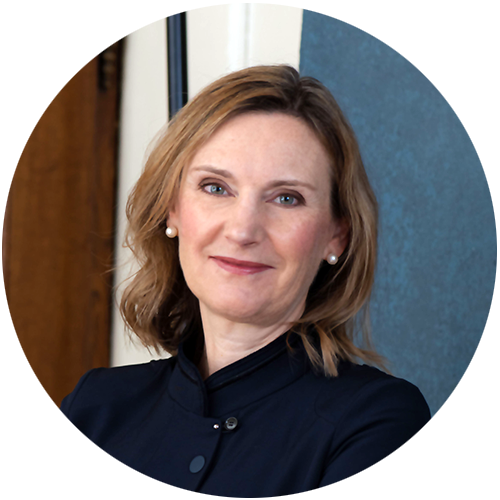 "With the OUTTRA tool, we create a win-win-win situation: both manufacturer, dealer and consumer benefit from this new option."
Heidi Boeckmann
Manger Digital Marketing DT Swiss
In addition to the aforementioned added values, she appreciates the individualisation options that OUTTRA offers brands: "The technical implementation of this project went smoothly. Graphic and functional elements could be adapted to our wishes and our CI, so that the jump to the OUTTRA dealer locator happens quasi unnoticed. We are excited to see how this new function will now be perceived in the market and show up in our results."

With DT Swiss, we welcome another important player from the bike industry to the OUTTRA ecosystem after Deuter, Gonso, Magura (coming soon), Martini, Ortlieb, Vaude and Ziener. In total, almost 30 sports brands are now using OUTTRA tools to increase the efficiency of brands' sales and marketing, improve the customer experience for consumers and generate additional sales in retail: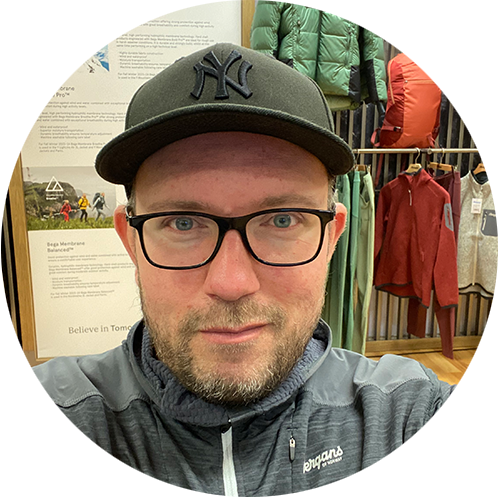 Christoph Haitzmann, Bergans Sales Manager Central Europe
"Durch die Zusammenarbeit mit Outtra unterstützen wir unsere Handelspartner und unsere Endkunden. Outtra verbindet die Markenwelt von Bergans mit der Kompetenz und der Erlebbarkeit des Fachhandels. Unsere Handelspartner profitieren von der Sichtbarkeit ihres Ladens in unserem Webshop, wodurch die Verkaufswahrscheinlichkeit gesteigert wird. Gleichzeitig ist die Anbindung für interessierte Händler einfach gestaltet und bietet unserer Ansicht nach einen echten Mehrwert für alle Beteiligten."